Sam4s TITAN-530, TITAN-260 AND SPT-4700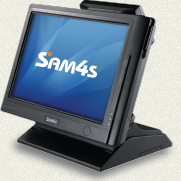 With the standard specification of fast 1.8GHzCPU, 2GB RAM and 320GB HDD there is no need for expensive upgrades.
The 15" inch screen provides bright clear colours for clarity and ease of operation. Screen tilt (0° to 65°) is adjusted easily to create just the right angle for viewing.